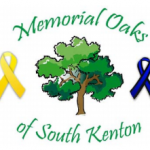 If you would like to request a brick paver online, print and mail this donation form along with the check to the address listed. Please make checks payable to Memorial Oaks.
Look for a discount coupon for the brick paver in The Journal News.
For more information regarding this ongoing project, please see the Memorial Oaks of South Kenton Facebook Page here.